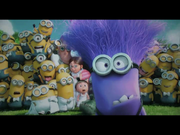 Aaron is a Purple Minion. He appeared at the end of Edith girl in the new Despicable me 2.
Appearance
He is a tall two-eyed Minion with Sprout-Cut Hair.
Plot
He was turned into an evil minion. At some point later, he somehow managed to get away from Eduardo's lair.
There's a scene that Gru tried to escape from attack from an evil minion who climbed on him, then Gru threw the minion into a roof of El Macho's tower. Consequently, that evil minion may not have been sprayed by PX-41 antidote and he may be Aaron.
At the end of the movie where Gru and Lucy get married, he appeared in front of the camera, while they were taking group pictures. He got knocked out by EdithGirl.
Ad blocker interference detected!
Wikia is a free-to-use site that makes money from advertising. We have a modified experience for viewers using ad blockers

Wikia is not accessible if you've made further modifications. Remove the custom ad blocker rule(s) and the page will load as expected.