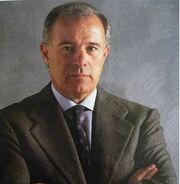 Alfonso de Santa Elena y Lorena
is the stepfather of
Maria
, the main character in the soap opera
La Pasión de la Pasión
. He forbids Maria to find her true love, which makes her extremely desperate.
Trivia
Alfonso Pío Carlos Álvaro Fernando Gonzalo Enrique José Elías Roberto Hugo Sixto Javier Francisco de Asís Ramiro Joaquín Isidro Leandro Miguel Gabriel Rafael Pedro Benito Felipe de Santa Elena y de Lorena.
Ad blocker interference detected!
Wikia is a free-to-use site that makes money from advertising. We have a modified experience for viewers using ad blockers

Wikia is not accessible if you've made further modifications. Remove the custom ad blocker rule(s) and the page will load as expected.