Despicable Me 3 is a movie. The film received negative reviews and was a box office bomb.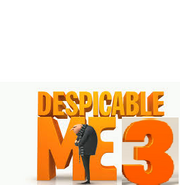 Plot
2 of the villains Gru faced from the previous film,Vector and El Macho, teamed up with a Cookie Scout named Meena (from Despicable Me: Minion Rush) to turn some of Gru's minions into their apprentices,the Orange Minion (Vector), the Evil Minions (El Macho) and Meena Minions (Meena). It's up to Gru,Lucy,Margo,Agnes,Edith,the Minions,and one of the Evil Minions to stop the 3 villains
Cast
Steve Carrel as Gru
Kristen Wiig as Lucy Wilde
Ava Benavente as Meena the Cookie Scout
Benjamin Bratt as El Macho
Jason Segel as Vector
Russel Brand as Dr. Nefario
Pierre Coffin as Kevin the Minion, Bob the Minion, Stuart the Minion, Additional Minions,and Evil Minions
Chris Renaud as Additional Minions,Evil Minions,Meena Minions,and Orange Minions
Poster
Ad blocker interference detected!
Wikia is a free-to-use site that makes money from advertising. We have a modified experience for viewers using ad blockers

Wikia is not accessible if you've made further modifications. Remove the custom ad blocker rule(s) and the page will load as expected.