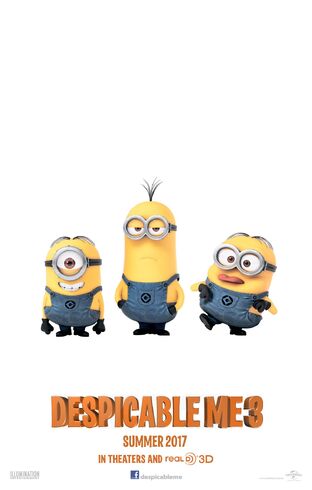 Despicable Me 3 is an upcoming sequel to Despicable Me and Despicable Me 2. None of the characters from the first two films will return except for Gru and the minions. The film is set for release on June 30, 2017.
Plot
Gru, Lucy, Margo, Edith, Agnes and the minions are going to Tokyo, Japan and later Gru, Lucy and the minions look for a criminal called Skioskeia said to be a myth by all the Japanese.
Cast
Steve Carell as Felonius Gru, former villain turned father.
Pierre Coffin as Kevin the Minion, Bob the Minion, Stuart the Minion, Additional Minions
Chris Renaud as Additional Minions
Gallery
Logos
Posters
Ad blocker interference detected!
Wikia is a free-to-use site that makes money from advertising. We have a modified experience for viewers using ad blockers

Wikia is not accessible if you've made further modifications. Remove the custom ad blocker rule(s) and the page will load as expected.