Need more bananas!
This article is a stub. You can help Illumination Entertainment Fanon Wiki by expanding it as well as you can.
gru en lucuy

The poster for the movie.
Despicable Me 4
Film information
Directed by
Pierre Coffin
Produced by
Robert Slave
Written by
C. Elbourn

Gabriel Garcia

Editing by
Steven Samono

Craig McCracken

Music by
Danny Elfman
Studio
Illumination Entertainment

Universal Pictures

Distributed by
Universal Pictures
Release date(s)
Unknown
Language
English
Preceded by
Despicable Me 3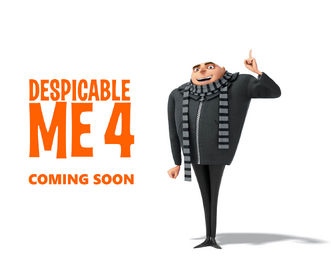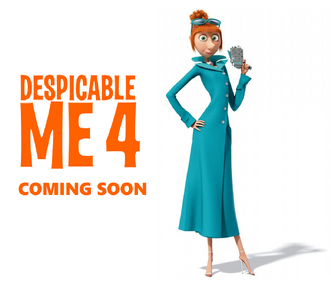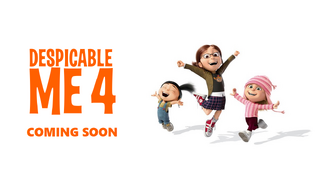 Despicable Me 4 is an upcoming sequel to Despicable Me, Despicable Me 2 and Despicable Me 3. The film is said to release in the future.
Plot
Balthazar Bratt joins the AVL with Gru and Lucy. A new Female Villain is introduced she uses jewels for weapons, like ruby's to make duplicates of her to help her fight, pearls as smoke bombs, etc. She also uses a special pendant to hypnotize people by singing and her parents turn out to be Scarlet Overkill and Herb Overkill and she used to have a crush on Balthazar so she joined the villian side for him since he was a villian as a kid and as an adult.
Cast
Steve Carell as Felonius Gru, former villain turned father.
Pierre Coffin as Kevin the Minion, Bob the Minion, Stuart the Minion, Additional Minions
Chris Renaud as Additional Minions
Jacob Hopkins as Andy the Minion, Additional Minions
Miranda Cosgrove as Margo, the oldest of the three girls.
Dana Gaier as Edith, the middle child of the three girls.
Elsie Fisher as Agnes, the youngest of the girls.
Trey Parker as Balthazar Bratt, former t.v star and former Villain
Anne Hathaway as Jewel Overkill, Supervillian and only daughter of Scarlet and Herb Overkill
Anthony gladue as Mr beanless the supervillain
Gallery
Logos
Posters
Ad blocker interference detected!
Wikia is a free-to-use site that makes money from advertising. We have a modified experience for viewers using ad blockers

Wikia is not accessible if you've made further modifications. Remove the custom ad blocker rule(s) and the page will load as expected.