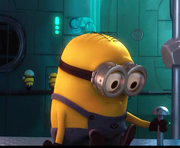 Lionel is one of Gru's Minions.
Appearance
He is a two-eyed minion that appeared in Despicable Me.
Plot
In Despicable Me, Lionel is fixing an overpass in Gru's Lab. At his appearance, he is holding a nail and waiting for Gaetano to knock it in. Gru approaches and announces "Minions, assemble!" and leaves. Lionel has little responce but sighs.
Shortly afterwards, Gaetano rushes back, said "Throo!" (3!) and hit Lionel with the hammer, which makes Lionel screams in pain loudly.
Ad blocker interference detected!
Wikia is a free-to-use site that makes money from advertising. We have a modified experience for viewers using ad blockers

Wikia is not accessible if you've made further modifications. Remove the custom ad blocker rule(s) and the page will load as expected.