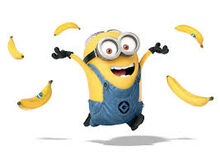 THE BANANA GAME IS A FUN MINION BASED GAME. IT'S ALSO GREAT FOR MEMORIZING THE MINIONS' NAMES!
WHAT YOU NEED : TWO BANANAS - A PRINTED PICTURE OF EVERY MINION - A MARKER - LITTLE PIECES OF PAPER - AS MANY PENCILS AS THERE ARE PLAYERS- A CLOCK
PREPARING FOR THE GAME : 1 - FIRST, YOU WILL NEED TO SLICE THE TWO BANANAS IN LITTLE PIECES AND PLACE THEM IN A PLATE. 2 - USING THE MARKER, WRITE THE NAME OF EACH MINION IN THE BACK OF THEIR PICTURE. PLACE THEM IN A PILE IN FRONT OF THE BANANA PLATE, THE MINION FACES FACING THE SKY. 3 - DISTRIBUTE THE LITTLES PIECES OF PAPER EQUALY AND THE PLATES TO EACH PLAYER : (MAKE MORE PEICES OF PAPER IF NEEDED.)

HOW TO PLAY!
PICK UP ONE OF THE MINION CARDS AND PLACE IT IN FRONT OF THE PLAYERS.
LOOK AT THE CLOCK : YOU HAVE ONE MINUTE TO GUESS THE MINION ON THE PICTURE'S NAME.
ALL THE PLAYERS HAVE TO WRITE DOWN THE NAME OF THE MINION ON ONE OF THEIR LITTLE PIECES OF PAPER AAND PLACE IT IN FRONT OF THE PICTURE, FACE DOWN.
ONCE THE MINUTE IS UP, THE PLAYERS FLIP THEIR LITTLE PIECE OF PAPER AND THE MINION'S NAME IS REVEALED, BY FLIPPING THE CARD.
WHOEVER GOT THE NAME RIGHT TAKES A PIECE OF BANANA AND PLACES IT IN THEIR PLATE. NOTE: IF MORE THAN ONE PERSON GETS THE NAME RIGHT, THEY HAVE TO SING THE BANANA SONG AS FAST AS THEY CAN AND WHOEVER FINISHES FIRST, TAKES THE PIECE OF BANANA.

THE GAME CONTINUES UNTIL THERE ARE NO MORE PIECES OF BANANA.
AT THE END, THE PERSON WITH THE MOST BANANAS WINS THE GAME.
THIS GAME CAN BE PLAYED FROM 2 TO UNLIMITED AMOUT OF PEOPLE. (JUST CUT MORE BANANAS IF MORE THAN 4/6 PEOPLE.
IF YOU DO NOT HAVE BANANAS AVAILABLE FOR THE GAME, YOU CAN DRAW PIECES OF BANANA ON A PIECE OF PAPER AND CUT THEM OUT OR SIMPLY PLAY WITH POINTS WRITTEN DOWN ON A PIECE OF PAPER INSTEAD OF PIECES OF BANANA.****
Ad blocker interference detected!
Wikia is a free-to-use site that makes money from advertising. We have a modified experience for viewers using ad blockers

Wikia is not accessible if you've made further modifications. Remove the custom ad blocker rule(s) and the page will load as expected.