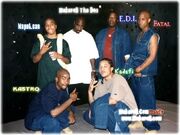 The Outlawz 
is found in 1996 where 
Tupac Shakur
 and 
Yaki Kadafi
 died. 3 of them are dead Hussein Fatal, Yaki Kadafi, and Tupac Shakur. They have absolutely nothing to do with Despicable me.
Members
Makaveli (Tupac Shakur)
Yaki Kadafi (Yafeu Fula) 
Kastro (Katari Cox)
EDI Mean (Malcolm Greenridge)
Hussein Fatal (Bruce Washington)
Napolean (Mutah Beale)
Moozaliny (Tyruss Himes)
Komani (Mopreme Shakur)
Storm (Donna Harkness)
Young Noble (Rufus Cooper III)
Justin Fishskark (Justin Jackson)
King Julian Diehard (Julian Fisherman)
George Washington (George Johnson)
Undo Kyle (Kyle Jackson)
Ben Dicer (Benjamin Franklin)
Jump the Hoop (Julian Fredrickson)
Julian Humpjack (Julian K. Jackson)
3000 Dustins (Dustin Johnson)
Zack the Mack (Zack Meanson)
Vay Jack (Jack Christopher)
Mindless Ed (Edwards Benjamin)
Try KRS (Hussein Bartson)
Jack Juicy (Jack Muntz)
Julian Jackson (Julian Jackson II)
Kill You (Kyle McFadden)
Kyle Kickass (Calvin Courtney)
Kade Blade (Julian George)
Jack Fishavel (Jack Charles)
King Fishless (Kyle Black-Hood)
Kyle Sitting (Kyle Bronson)
American Fred (Fred Northwest)
National Jul (Julian Kendrick)
Ad blocker interference detected!
Wikia is a free-to-use site that makes money from advertising. We have a modified experience for viewers using ad blockers

Wikia is not accessible if you've made further modifications. Remove the custom ad blocker rule(s) and the page will load as expected.