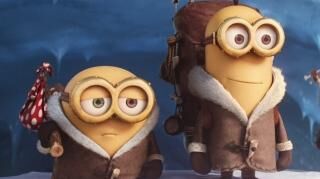 Hey guys! Here's some minion fan art I made and you can use the ideas! And, OMG! The "Minions" trailer came out! So happy and just in case you haven't seen it yet (which I doubt) I put it in this blog! I'm super happy about it and going to go see it with some of the members of my minion fan club (the minioners)!  Soon I will post a really easy minion snack recipie and more words to the minion dictionary page! Also I'm working on a song with some other minioners from the minion fan club : the song is in minionese and we have to find all the banana words for it, it has to make sense AND, as if that wasn't enough, we have to make it RIME... It's gonna be awesome! I won't forget to post it, don't worry!
That's all for today's blog I guess! TULALILOO TI AMO my friends!
Ad blocker interference detected!
Wikia is a free-to-use site that makes money from advertising. We have a modified experience for viewers using ad blockers

Wikia is not accessible if you've made further modifications. Remove the custom ad blocker rule(s) and the page will load as expected.